Offer
Simple Network Management Protocol (SNMP) has long been the de facto standard for managing computer networks. However, SNMP has only recently begun to make inroads in the field of network alarm management (also known as remote telemetry and alarm monitoring), which until the 1990s was dominated by serial protocols transported over dedicated copper circuits.
This paper is an introduction to SNMP from the perspective of network alarm management. It summarizes the history and structure of the protocol, and offers some concrete applications for using SNMP for network alarm management.
The Fast Track Introduction to SNMP Alarm Monitoring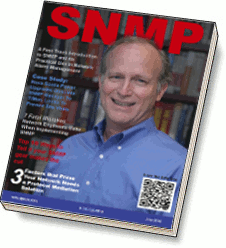 by Marshall DenHartog
This guidebook has been created to give you the information you need to successfully implement SNMP-based alarm monitoring in your network.
It's an introduction to SNMP strictly from the prospective of telecom network alarm management, with fast specific answers to help you make SNMP monitoring work in your network.
Simple Network Management Protocol for real-world telecom network alarm monitoring ...
Fast, complete introduction to SNMP
Effective telecom alarm monitoring with SNMP
Integrating legacy equipment to SNMP monitoring
Overcoming the limitations of SNMP
Remember that we'll NEVER sell your email address to anybody, and that's a promise! We will also send you our informative eMagazine.
This white paper is an updated edition of the most popular volume in DPS history. By downloading it, you'll gain a solid foundational understanding of SNMP in about 15 illustrated pages. You'll see diagrams and read plain-English descriptions that teach you the basics in an easy way.
Once you've completed reading this SNMP guide, you can go a in a few different directions:
If you want more SNMP guides, DPS has several on SNMP, including MIBs, troubleshooting, and SNMPv3 mediation.
You might also choose to call the SNMP experts at DPS Telecom to ask a specific question. We can offer basic guidance as you learn SNMP, even if you don't need to purchase any new equipment.
If you decide you're ready to purchase an SNMP RTU, manager, or mediation device, we can give you a quote for field-proven gear.