The right network device will convert earlier SNMP versions like SNMPv1 and SNMPv2c into secure, encrypted v3.
Furthermore, most organizations that care about security would prefer to also encrypt SNMP protocol in order to have redundant security layers.
SNMPv3 Mediation
If you've got a lot of SNMP v1 & v2c equipment in your network combined with a requirement to use only secure SNMP v3, it may seem like you've been given 2 incompatible goals:
Stop using all of your SNMP v1 & v2c equipment.

Don't spend budget money on new SNMPv3 equipment.
What you need, in order to give your older SNMP gear the advantage of modern security, is a fairly simple box that collects unsecured SNMP messages (traps) before they ever leave the building's local network. The collected traps would then be converted to SNMPv3 before being forwarded to your SNMP manager.
This is becoming the favored solution for military and other government organizations, as well as private companies that need a higher level of security. In today's environment, they most likely won't have the funding to replace all of the installed gear they've deployed in the last decade. Since they can't afford to compromise security, either, they're frequently using SNMPv3 converters instead. A single converter at a site can handle just about any number of local SNMP (v1 or v2c) devices, so purchasing costs are dramatically reduced.
You can also get more than just protocol conversion out of an SNMPv3 converter box. Some are also designed to perform alarm monitoring and management, such as RTUs (discrete inputs, analog inputs, temperature sensors, control relay outputs). If, like most people, you need some general purpose monitoring at any of your locations that have SNMP engines, you can now solve two problems with one device.
The key is to choose a manufacturer that will help you to build an effective system that addresses several of your needs at the same time.
Smooth SNMPv3 Transition with the NetGuardian 832A G5
If you're transitioning to SNMPv3 in your network, the NetGuardian 832A G5 can help you make the change. You can start reporting alarms in SNMP v1 or v2c and switch over to v3 whenever you're ready.
SNMPv3 support is a standard feature of the NetGuardian 832A G5 SNMP RTU, allowing you to monitor all of your SNMP devices with enhanced security via message encryption. The NetGuardian allows you to report alarms in SNMP v1, v2c, or v3, leveraging the full NetGuardian feature set and your existing SNMP manager.
---
Get a Custom Application Diagram of Your Perfect-Fit Monitoring System
There is no other network on the planet that is exactly like yours. For that reason, you need to build a monitoring system that's the right fit for you.
"Buying more than you need" and "buying less than you need" are real risks. You also have to think about training, tech support, and upgrade availability.
Send me a quick online message about what you're trying to accomplish. I'll work with you to build a custom PDF application diagram that's a perfect fit for your network.
---
Make an Informed Decision
Your network isn't off-the-shelf.
Your monitoring system shouldn't be, either.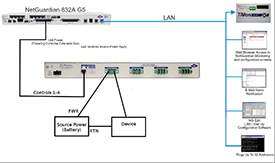 We'll walk you through this with a customized monitoring diagram.
Just tell us what you're trying to accomplish with remote monitoring.
Get a Custom Diagram