Offer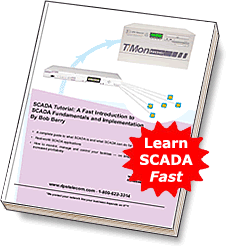 SCADA Tutorial

:
A Fast Introduction to SCADA Fundamentals and Implementation.
By

Bob Berry

You already know that SCADA can save you a lot of money. It can also increase profitability. You should also understand that SCADA implementation can be a sinkhole of cost overruns and a string of disappointments. You can face acquisition, installation and implementation delays. You can end up equipment that has fewer capabilities than you need or vendor support that is not as readily accessible as you expected.

To secure the benefits and avoid the problems requires intelligent design and careful planning of logistics. We strongly recommend one or more field trials strategically designed to exercise specific elements of the SCADA system. These can significanly reduce the cost of roll outs and increase the chances of success.

There is no reason not to take advantage of our over 30 years of experience in monitoring and control system design. This guide can be easily augmented by a simple phone call to one or our engineers to iron out the details of your particular application. You do not have to be restricted to some off-the-shelf system when you can have a solution tailored to your specific needs.

This guide shows how you can use SCADA effectively and profitably. Concrete applications and examples are included as illustration and to reinforce best practices.
---
Average user rating:

4

out of 5 stars

(

19

reviewers)
---
August 8, 2011 -
12
pages - Publisher:
DPS Telecom
- Language:
English
-
Free

PDF Download.
Download this White Paper.
Remember that we'll NEVER sell your email address to anybody, and that's a promise! We will also send you our informative eMagazine.