Communicate Between Sites with this -48v VoIP Orderwire device...
How do your techs talk to the central office when cell coverage is poor? Do they boot up their laptops and start VoIP software? Do they simply do their best without any voice communication?
This new VoIP Orderwire solution from DPS is powered by your reliable -48v power instead of vulnerable commercial AC. This is critical, because a power failure is an urgent situation when you need voice communication the most.
You'll also get traditional orderwire functionality like hoot-n-holler and conference bridging. Even better, this VoIP device uses SIP 2.0 protocol, so it integrates with common VoIP equipment you may already have.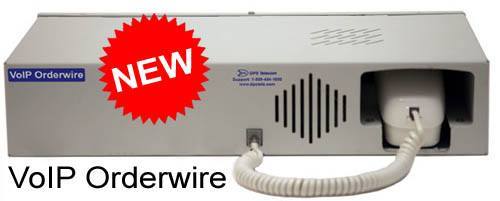 VoIP Orderwire is now available from DPS. (chat online with DPS to learn more)
This new technology marks a significant expansion of the DPS product line, creating a great opportunity for one-stop-shopping. You can now order orderwire functionality right along with your alarm remotes - without the hassle of shopping around and sending purchase orders to multiple vendors.
Key Benefits of this new VoIP Orderwire technology:
Allows staff to communicate via LAN

instead of leased telephone lines

Hoot 'n' Holler

- Page all your staff at once within the orderwire system

Supports important legacy orderwire features

Dialing on the handset

- No need to stand right in front of your racks

Avoid rolling out expensive POTS lines

to distant sites

Slashes long-distance charges

Quick and easy to install

Deploy an all-DPS VoIP solution, or interface with other manufacturers

Multiple power options available, including -48VDC
Integrate VoIP Orderwire with DPS RTUs
This new VoIP technology is available as an add-on to DPS RTUs. To save your rack space and budget with a 2-in-1 solution, call DPS at 1-800-693-0351 or Chat Online Now
Chat online with a DPS representative now to discuss VoIP Orderwire