The 216/V16 wire wrap back panel allows for wire-wrap connections. This can be done to your NetGuardian's alarms. It can connect your analog inputs. Control relays can be connected as well.

NOTE: All newly ordered NetGuardian 216 G3 remotes will include analog gauges. Older hardware is upgradeable. If you already have 216 G3's in your network you can get a firmware update. If would like to receive a firmware update that includes analog gauges, call DPS at 1-800-693-0351.

There is a wealth of information in our networking whitepapers and user manuals on this site. If you don't already have one, please create a "MyDPS" account at http://www.dpstele.com/mydps. Here, you'll find product summaries, user manuals, and firmware/software/MIB downloads. Plus, you'll be able to access documents guiding you step-by-step through commonly used applications.

If at any time you have a question or you need clarification about anything, call or e-mail the Tech Support team. Here's our contact info:

E-mail: support@dpstele.com
Phone: 800-622-3314
Hours: M-F 7AM to 6PM Pacific Standard Time
(24-hour emergency support available after hours - leave a message and an on-call technician will be paged)

We also periodically host a 4-day class, taught by the engineers who helped design your DPS equipment. They cover the essentials for using T/Mon, NetGuardian RTUs, as well as the basics of SNMP protocol. You would be welcome to have up to 3 technicians join you per class session. There are no fees to attend, aside from your own travel and accommodations. We'll even take care of breakfast and lunch while you're here.

Still need support? Contact us for On-Site Training and Turn-Up and Assistance options. A DPS Engineer can come on location to assist in getting your equipment installed and/or train other technicians within our company.

To receive a price quote or ROI analysis...

Call 1-800-693-0351.
---
Get a Custom Application Diagram of Your Perfect-Fit Monitoring System
There is no other network on the planet that is exactly like yours. For that reason, you need to build a monitoring system that's the right fit for you.
"Buying more than you need" and "buying less than you need" are real risks. You also have to think about training, tech support, and upgrade availability.
Send me a quick online message about what you're trying to accomplish. I'll work with you to build a custom PDF application diagram that's a perfect fit for your network.
---
Make an Informed Decision
Your network isn't off-the-shelf.
Your monitoring system shouldn't be, either.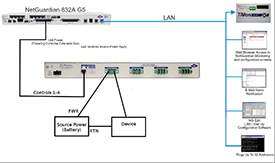 We'll walk you through this with a customized monitoring diagram.
Just tell us what you're trying to accomplish with remote monitoring.
Get a Custom Diagram