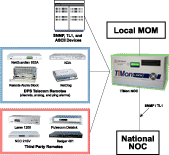 Ping alarms are used to contact other devices and determine their network presence. If a given device does not respond within the user defined time frame, it is reported as off line. The line port is a modem interface to a telephone line. When the NetDog has an event to report, it uses this port to dial out to a paging terminal or an alarm management system, such as the T/Mon NOC.
Alarm Forwarding With Local Visibility: The T/Mon NOC consolidates alarms from diverse equipment to a single data stream, forwarded to a top-level MOM in the protocol of your choice. At the same time, regional NOC staff and technicians can view alarms within their area of responsibility.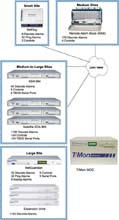 The NetDog 82 IP G2 is the ideal solution for small sites where rack space is a premium. Compact enough to mount on a wall or fit on a tabletop, the NetDog has 8 discrete alarms, 32 ping alarms, and 0-4 controls.
Need a Quote?
Get it by: 4:15 PM Monday (tomorrow)
8:00 AM Monday
We'll Start Work on Your Detailed Quote
4:15 PM Monday
Get Your Quote (Email PDF)
It's 4:33 AM on Saturday at our Fresno, CA, USA headquarters. We'll start work on your quote first thing on Monday.
Get a Quote