The NetGuardian 216 F is a powerful, LAN-based, fiber-supported RTU with all the versatility you expect from a NetrGuardian. With 2 SFP fiber ports, LAN access for 7 network elements, options for temperature and battery monitoring, and VLAN support, the NetGuardian 216F makes a great monitoring solution for areas without existing LAN.
16 discrete alarms, 16 ping alarms, 8 analog alarms (4 general, 2 temp & 2 batt), and 2 controls.
2 SFP Fiber Ports (1000Base-X).
Reports alarms via SNMPv1, v2c Informs,and SNMPv3.
Integrated 10/100/1000BaseT Ethernet switch. Provide connectivity to far-end devices.
New! VLAN support - make your 216F and joined devices talk to the right components in your network without installing a separate router.
Industrial temperature rating to withstand extreme conditions.
Supports temp and battery monitoring.
Supports Building Access System (BAS).
Web interface to monitor without a master.
AC or DC power.
Firmware upgradeable via LAN.
Expandable discrete alarms and controls via NetGuardian DX Expansion units.
RoHS 5 approved, for overseas clients requiring RoHS compliant units.
E-mail and pager alerts.
Free lifetime firmware upgrades.
Includes Windows-based editor for off-site editing and remote provisioning via LAN.
Need help getting started? Full RTU Tutorial
See Real-World NetGuardian Applications
Applications

Overview of the NetGuardian 216F. This diagram is shown with the Wire Wrap Adapter.

Diagram displaying the drop for the NetGuardian 216F. It also displays the insert for the NetGuardian 216F.
---
Get a Custom Application Diagram of Your Perfect-Fit Monitoring System
There is no other network on the planet that is exactly like yours. For that reason, you need to build a monitoring system that's the right fit for you.
"Buying more than you need" and "buying less than you need" are real risks. You also have to think about training, tech support, and upgrade availability.
Send me a quick online message about what you're trying to accomplish. I'll work with you to build a custom PDF application diagram that's a perfect fit for your network.
---
Make an Informed Decision
Your network isn't off-the-shelf.
Your monitoring system shouldn't be, either.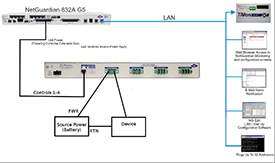 We'll walk you through this with a customized monitoring diagram.
Just tell us what you're trying to accomplish with remote monitoring.
Get a Custom Diagram