"Need A Better Way To Communicate Between Equipment Sites? These Order Wire Systems Are The Answer..."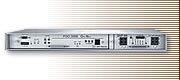 Enhance Communication
Between Your Sites...
Do you suffer from a lack of communication between your remote sites? Is it preventing badly needed communications with technicians in the field? Have you racked up huge long-distance bills trying to keep in touch with your other technicians across your vast network territories? With your techs getting dispatched all over the place, you've added a ton of extra phone lines, but the level of overall communication doesn't seem to have improved. It's getting costly to keep adding new phone lines. What if you're in the middle of nowhere, where there aren't any phone lines or cell phone service?
What if it were possible to connect everyone in your network, without the hassle of any phone lines? Imagine a private voice communication system that runs on the existing, unused bandwidth in your network. Your maintenance technicians could easily communicate with one another between sites near and far, without the fear of excessive long-distance charges. A system like this would eliminate communication problems throughout your entire network! Such a system would allow techs to coordinate their efforts & report to the dispatch center. It's not only a matter of efficient operations - but safety as well.
Most microwave and fiber connections provide either analog or digital bandwidth just for order wire. DPS has order wire solutions that work on both digital and analog bandwidth.
Order wire systems from DPS are the smart choice for economical voice communication. Establishing your network-owned, private line system means your telephone communication is not subject to central office switching. Long-distance charges are a thing of the past with DPS order wire, since you'll use order-wire network for calls via a local POTS line. The FDO-3000 Off-Net order wire unit interfaces the FDO-1000, so you can access from an outside phone line.
Key Advantages of DPS Order Wire Systems
Don't pay for extra phone lines

- Order wire runs off the used bandwidth in your existing network

Achieve economical voice communication

by squeezing the muscle from your current bandwidth

Eliminate long-distance charges

by using the order wire system for local calls via a local POTS line

Establish your own private communication system

that's free from central office switching

Enjoy the benefits of different privacy modes

, all call and conferencing features

Save space with FDO-1000 and FDO-3000 Off-Net

, each in one-rack unit chassis

Use a network-owned, programmable system that grows with your network

through expansion cards

Get the most from your system with order wire accessories

: Active 4w/4w bridge, 4-wire DTMF phone and speaker
Call DPS Telecom today at 1-800-693-0351 to learn how you can enhance maintenance communication at your equipment sites...