Monitoring Alarms from Multiple Remote Sites with a TempDefender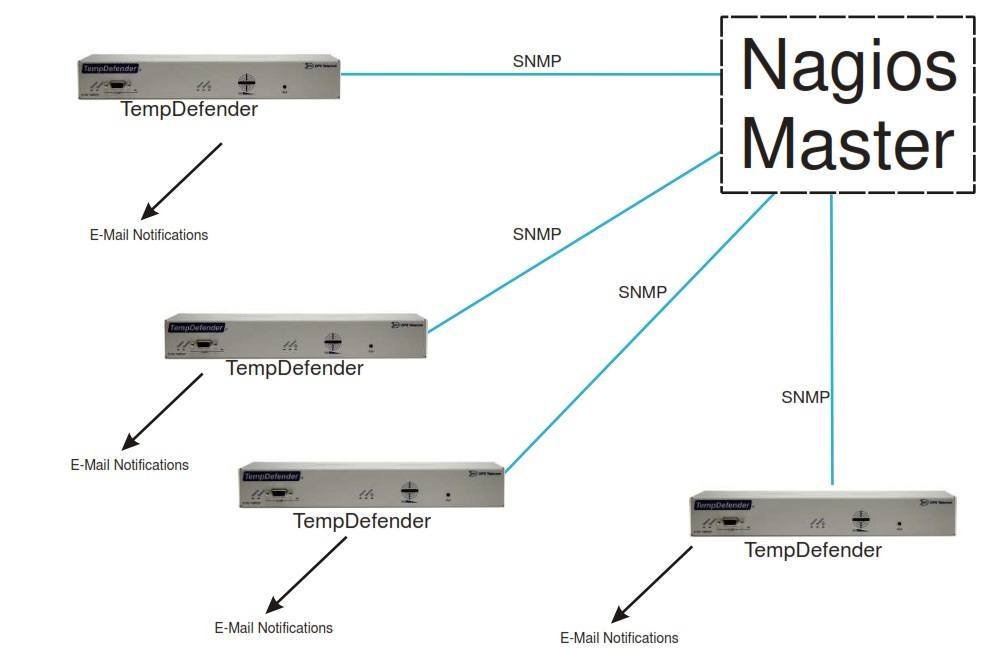 Equipment Used:
This proposal was assembled to handle a monitoring project involving multiple sites. The TempDefender we selected is quite well matched for immediate 3-4 contact closures with analog temperature and humidity needs while providing for some growth going forward.
Video: TempDefender G2 Hardware
We are suggesting our telco-grade, industrial quality, intelligent remotes to allow each of the four sites to have stand-alone monitoring. When an event occurs, each site will handle the email notification you need and also notify your master. This eliminates the single point of failure created by head-end architectures with some kind of cheaper (and typically not as robust) remote nodes.
We believe this solution provides the best value for your investment and look forward to helping you with any questions or further direction you may have.
The TempDefender IT is a small device that keeps tabs on all the environmental levels and equipment alarms surrounding your servers, phone closets, data centers, and other equipment locations. It will be responsible for collecting critical status information and reporting it to your management platform(s). The TempDefender IT will report SNMP (v1 and v2c) to your SNMP Manager over LAN or DCPx over IP to the T/Mon.
With the built-in web interface, you can log on to the TempDefender IT from anywhere on the network to edit your threshold settings and view the current status of the room. This makes it possible to also monitor the TempDefender without an SNMP manager. You'll never have to wonder about the current room temperature. You'll be able to get all of this information quickly - right from your network PC.
The compact, 1 RU TempDefender IT has 8 discrete alarms on the back panel that are used to monitor dry contacts, such as motion sensors, UPS, smoke detectors, flood sensors, AC and room entry. With 4 digital sensor inputs (supporting up to 16 total sensors) on the back panel, you'll stay protected from these threats.
The TempDefender has an option to include 3 control relays.
TempDefender IT summary of benefits:
Small form-factor saves on valuable rack space
Plug 'n' Play design - Start monitoring in minutes
SNMP-compatible - Send traps to your SNMP manager
Receive 24/7 email notifications when environmentals cross your thresholds
4 digital sensor inputs (each digital sensor port supports multiple "daisy-chained" sensors, with a max. of 16 sensors per unit)
Telco-grade casing for enhanced durability
Built-in web interface to monitor from any PC on the network
Monitor environmentals and security conditions in your server room or data center
Spring clamp connectors for easy alarm termination
FREE software updates on WEB - Easily access new functionality at no cost.
Single Feed Power
The TempDefender IT can be configured in two ways:
The TTY interface through the front craft port, or
Standard web browser software