Screenshots
TempDefender: Screenshots
The TempDefender IT includes an easy-to-navigate web interface that boasts several time-saving new tools. Menus load very quickly, and alarm statuses update automatically without requiring a page refresh. Look below for screens of the new setup wizards that make it easy to configure email and SNMP notification schedules.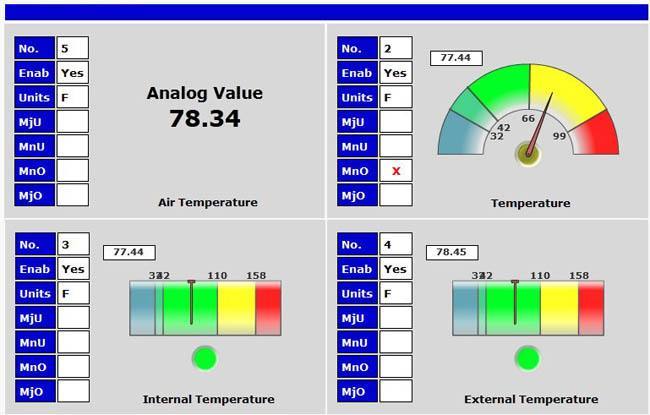 Monitor Real-Time Sensor Readings - monitoring your analog values has never been easier. Each sensor displays its monitored values in gauge form - so you can easily see the status of your alarms in a graphical display.


Easy-to-Configure Analog Sensors - When you plug in a sensor, the TempDefender will automatically determine the sensor's type and necessary settings. You don't have to worry about reference values or other complicated settings. Just plugin the sensor, set your thresholds, and you're ready to go.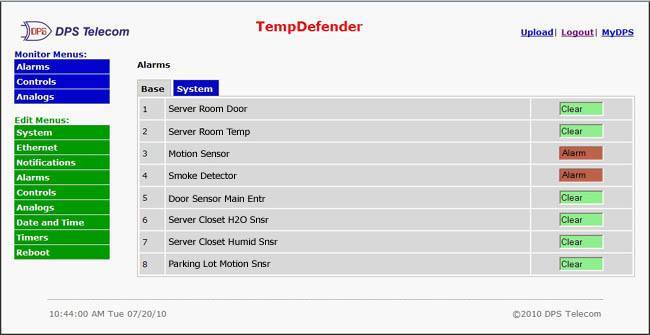 Keep tabs on your dry contact alarms: - Use the 8 discrete alarms to track thinks like tripped motion sensors, crossed temperature thresholds, and building entry.
| Controls menu up close | |
| --- | --- |
| Monitor and Operate Controls: Get an at-a-glance view on the state of the control relays. You can latch and release controls from this screen. | Setup SNMP Traps: Select the event that must occur for SNMP traps. You have the option of receiving traps when alarms are triggered, when they clear, or both. |
| | |
| Setup Email Notifications: Whether you check emails at your desk or from your smartphone, the TempDefender keeps you in the loop. Have your SMTP server and port information handy during setup. | Creating Alarm Schedules: The built-in alarm scheduling tool allows you to account for employee time-off, after-hours monitoring, and shift changes. Enter in the specific day(s) and times you want to receive alarm notifications. |
Need a Quote?
Get it by: 4:15 PM Monday (tomorrow)
8:00 AM Monday
We'll Start Work on Your Detailed Quote
4:15 PM Monday
Get Your Quote (Email PDF)
It's 4:33 PM on Sunday at our Fresno, CA, USA headquarters. It's late in the day, but we promise to start on your quote first thing in the morning.
Get a Quote