The TempDefender and the NetGuardian 832A are two good options of RTUs to monitor the temperature at your remote sites. Your choice will depend on your capacity requirements.

But if you work for a medium-to-large company and you have lots of equipment and sites that require temperature monitoring, you'll be much better served selecting a larger RTU like the NetGuardian 832A. With 32 digital inputs and 8 analog inputs, it has the capability to monitor as many sensors as are required at all but the largest installations.
Real World Scenarios
To help you better understand how temperature monitoring systems work, let's take a look at a project from DPS Telecom's recent history.
One day recently, Evan called in looking for a small RTU. He had 1-4 sites that needed to be covered by a temperature monitoring system, among other types of monitoring. Evan needed about 8 discrete alarms points, 3 control relays, and 1 serial port for COM port redirect. He also wanted 1-4 generic analog inputs (for collecting sensor data from temperature sensors and other sensors).
A big issue for Evan was windshield time, the hours that technicians spend traveling to and from remote sites. For Evan's company, some sites were up to two hours away from the central office. This puts wear and tear on vehicles and costs a lot of money for gas, not to mention the highly paid technicians who are logging hours for driving around.
Evan had a couple of sites that were solar powered with generators that run when the panels do not create enough electricity. The generators had problems when they had to kick on and off a couple times a day.
This remote temperature sensor has a visible meter if you happen

to

b

e at

the si

te, but it also transmits temperature data back to you.
If the generator did not start, they would have the inverter cut out so the batteries were not drained to point of damage. This would cause the site to go down.
We received this email from Evan, describing more of his need for a remote monitoring system that included a temperature monitoring system:
"This is a remote communications site with a microwave link and Ethernet connectivity to our own intranet. Likely power the unit off 110 VAC, though we might prefer to put in a DC-DC converter off the +48 VDC bank unless your unit will run off as high as +60 VDC. Site is solar powered with 4 Outback charge controllers, 4,000 Ah of batteries, 15 KVA of Outback inverters and a 30 KVA generator.
We would want to monitor:
Battery bank voltage 48 VDC nominal
Inverter AC output voltage 120/240 VAC 1-phase
General Fault from generator
Inside temperature
Outside temperature
Generator running indication (switch closure or AC voltage measurement)
Control via relays:
Fault Reset to generator
Diesel tank heater load shed (activate contactor coil)
Generator external run command
Nice to have:
Inexpensive webcam interface, that is a USB camera, etc.
RS-232 port to connect to Outback MATE serial port
One to four DC current shunts, 100 Amps, to monitor solar charge controller output(s)
Sincerely, Evan"
Talk to Our Experts
I hope this introduction to temperature monitoring systems has been useful for you.
If you want to know more about remote monitoring and start planning your temperature monitoring system, give us a call and one of our experts can help you make informed decisions.
Related Articles
Temperature Monitoring System: How it Works & How to Choose
Remote temperature monitoring is most commonly used in telecommunication or IT environments where computer equipment must work with high reliability and high visibility for many years. This kind of monitoring protects you from...
by Andrew Erickson on March 27, 2019
Read Full Article
HVAC Control: Remote Monitor It - and Don't Wait Until the Second Incident
If you have remote telecom sites, HVAC control will always be necessary for you. HVAC (Heating, Ventilation, and Air Conditioning) systems are responsible for keeping your sites at an appropriate temperature, so that your...
by Andrew Erickson on April 3, 2019
Read Full Article
Cheapest Sensor Options for Your Remote Sites
An important aspect of using RTUs (remote telemetry units) for monitoring is the collecting and reporting of data from your remote sites. Your monitoring system needs a way to collect this data and report it to you via...
by Andrew Erickson on May 3, 2019
Read Full Article
Best RTUs At Any Price
Not all monitoring systems are created equal, and that makes choosing the right system very important. An RTU with limited features will only provide you with a false sense of security. You'll think you're protected and...
by Morgana Siggins on June 19, 2019
Read Full Article
Best RTUs On A Budget
If you have a tight budget, choosing the right RTU for your remote sites can be overwhelming. Deciding on a remote that can provide you with the right balance of capacity, interface, and features is critical,...
by Morgana Siggins on June 20, 2019
Read Full Article
---
Get a Custom Application Diagram of Your Perfect-Fit Monitoring System
There is no other network on the planet that is exactly like yours. For that reason, you need to build a monitoring system that's the right fit for you.
"Buying more than you need" and "buying less than you need" are real risks. You also have to think about training, tech support, and upgrade availability.
Send me a quick online message about what you're trying to accomplish. I'll work with you to build a custom PDF application diagram that's a perfect fit for your network.
---
Make an Informed Decision
Your network isn't off-the-shelf.
Your monitoring system shouldn't be, either.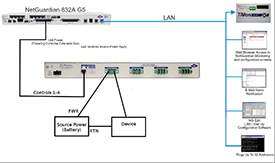 We'll walk you through this with a customized monitoring diagram.
Just tell us what you're trying to accomplish with remote monitoring.
Get a Custom Diagram