Management technology alert
Network Management Technology: What It Takes To Protect Your Network
Leaving your network unmonitored could be one of the costliest mistakes of your career. Without the right technology for network management, your network sits vulnerable to overheating, technology failure, and critical outages. Protecting your network is a top priority.
You wouldn't leave your employees unmonitored and unsupervised - so why leave your valuable hardware and equipment unmonitored? The potential damage from a critical network problem is huge: lost revenue from downtime, wasted resources on preventable repairs, and disgruntled customers taking their business elsewhere. Using network management technology is simply a must have.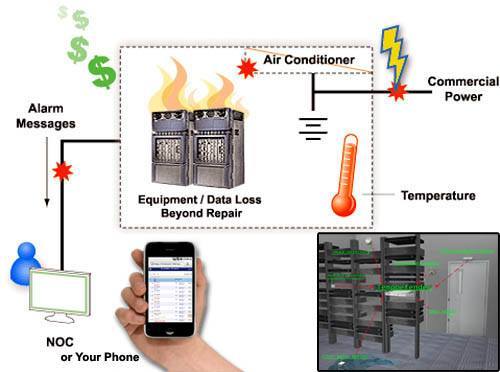 The diagram above shows a network monitoring device in action
Not at all network management technologies are the same...
Network management is one area you can't afford to cut any corners. Choosing the right technology is making a wise investment - you invest some money up front then reap future rewards of your wise decision. Knowing that it's absolutely essential to keep your network from going dark, here are some things to know about picking the right technology for your network:
Analog sensor technology

- You need the advanced sensor technology that analog sensors give you. Don't settle for only having basic discrete sensors (which only have two options: "on" or "off") and leave you in the dark about what's going on. Discrete sensors can tell you simply if there's a problem, not any critical details about the problem. That's where the power of analog sensors lies. Through continuous sensor output, you can view the exact status of the location of your sensors. For example, if you're monitoring the temperature of your server room, an analog sensor can provide (at any time you wish) an accurate reading of the temperature. Analog sensors give you the detailed information you need to prevent network emergencies.

Versatile alert system

- When it comes to being informed, you can't have technology that limits the way you're updated about network problems. Your network management technology needs to be able to alert you for all those times when you're out of the office - because network emergencies don't keep standard business hours. If your system only provides internal alert displays, then you're leaving your network exposed. Your alert system needs to have multiple ways of alerting you - especially the capability of alerting you at home (via email, pages, or voice dialing technology).

Hardware and software durability

- If your network isn't running on rugged industrial-grade hardware and ultra-stable software platforms then you run the risk of a network outage, because your monitoring system wasn't up to the challenge. What's the benefit of having network management technology if it isn't durable enough to monitor your network?
Where can I find the right technology for my network?
You're ready to give yourself the peace of mind knowing that you've done your part in preventing a critical network emergency. Imagine having the right technology to secure your network and boost revenues. The right technology that...
Is rugged and won't let you down with pointless crashes and random failures.
Provides advanced analog sensor technology - so you're never left guessing about the status of your network.
Has multiple methods of alerting you - even when you're out of the office.
Provides you with a user-friendly graphical user interface (GUI) - you won't believe how easy it is to setup and manage your network.
Has 7x24 first class customer support - so no matter what time of day, you always have the support you need.
Getting your network management technology doesn't have to be a hassle. If you're ready to protect your network and boost your revenue, then I suggest taking a look at the NetGuardian 832A. This network management technology gives you all of the essential features to protect your network. The NetGuardian 832A is capable of supporting a wireless SNMPv3 remote - to give you a backup alarm-reporting path if your LAN goes down and voice alerts right to your cell phone.
"DPS has been the best customer and tech support vendor I have worked with in the last twenty-five year I have been in the industry. Whenever any of our people have called for assistance, our needs were quickly taken care of, I wish that all vendors support were as good as yours were."
R. Konshuk - System Manager, ATC MICROWAVE
Don't hesitate any longer. If you have any questions, any concerns, or would like a free return on investment analysis, call the network management experts at DPS Telecom at 1-800-693-0351 or email them at sales@dpstele.com. You can't afford to leave your network unguarded for another minute.