Manage Your Network With a Network Alert Software
Are you in need of software that can monitor critical alarms across your network and alert you when there's a threat? A good network alert software suite can monitor critical environmental conditions in your server rooms, data centers, and remote sites. The instant there's a threat to your equipment, it's imperative that you're the first to know.
The only way to prevent outages is to deploy the right remote monitoring solution. By having the right network alert software in place, you'll be notified the instant there's a threat to your network - so you can quickly eliminate the threat.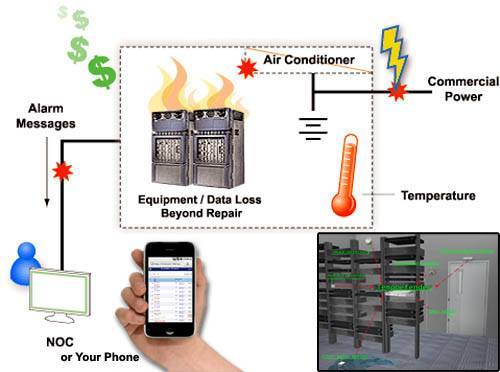 The right network alert software can notify you quickly at the network operations center if there's ever a threat to your equipment, this way you can avoid windshield time.
What is Network Alert Software?
Network alert software is the part of the remote control and monitoring system that provides the data to the user. It's the component of the system that can create logs, provide security measures and sort alarms, among other critical features that keep your system running the way it should. It is also the aspect with which you program your equipment.
Without network alert software, your monitoring system would be close to useless. Your equipment would take in information but would have nowhere to display it so that it can be used to keep the network running.
You can't deploy just any network monitoring solution
In order to prevent outages and maintain network uptime, you'll need to deploy the right network alert software.
You may be wondering, "What sort of features do I need?" To help you choose the right monitoring software, here are the 4 must-have features and remote monitoring techniques you need to protect your network:
Detailed Alarm Descriptions

With the right network alert software you'll receive detailed alerts that provide you with meaningful information to make good decisions during an emergency. Rather than sending a tech to a site just to find out what the problem is, you'll know in real-time what needs to be fixed. You can then send the right tech with the right equipment to fix the problem.

Web-Based Graphical User Interface

Web-based interfaces are user-friendly, easy to use management tools that allow you to program and provision your network devices in no time. Plus, you will be able to access your equipment from work, from home, even from mobile devices (such as a smartphone), as long as you have network connectivity.

Event Logging

Event logging is the part of a control system that allows you to keep track of what happens on your network, so if an issue ever arises, you'll know the source and can quickly fix it. Systems such as these allow you to create user profiles, so you'll have a log of who made the changes and when the changes were made. They also have security features so that only certain people can access vital information.

Filtering and Sorting Alarms

There's a large difference in priority between an alert about a generator failing and an alert about a device updating its firmware or a door opening. A good monitoring software solution will provide you with advanced tools to filter out and sort the important alarms so you'll be able to prioritize your response when there's an emergency. This will stop your employees from becoming desensitized to alarms, ensuring none of your most vital alarms get overlooked.
How to find the right network alert software
Imagine how much easier it'll be to respond to network threats with a cost-effective monitoring software. How much more productive could you and your network administrators be with the right software?
This could be a reality with the correct network alert software. Look for these features when comparing systems. Make sure that you get exactly the functionality you need without settling for less or paying for more than you could ever use.
In order to truly protect your network with the right remote monitoring and control solution, you'll first need to know all of the basics. With the right information, you'll be able to choose the best possible network management solution to protect your remote devices.
Download the free Network Alarm Monitoring Fundamentals White Paper to start your research.