Choosing the Right Alert Monitor for Your Network
Too many companies suffer from network downtime due to environmental conditions in their server rooms, data centers, or remote sites. Have you been one of the unfortunate ones who had to deal with the giant headache, the lost revenue, and all the angry customers? Maybe you're one of the lucky ones who haven't had trouble despite having an unmonitored ticking time bomb. Either way, protecting your network is a serious issue.
Leaving your mission-critical IT equipment unmonitored is taking an unnecessary risk. Many outages caused by environmental threats are easily preventable - you just need to be aware. That's where the power of a good alert monitor comes in.
There are more environmental conditions to consider than you probably realized. Temperature is the obvious one, which can cause crippling thermal shutdowns. You also need to protect yourself from humidity, water damage, smoke, air flow disruptions, and unwanted visitors. For example, if the humidity gets too low in your IT environment you run the risk of static electricity short circuiting your gear. Imagine how expensive it would be to replace damaged equipment.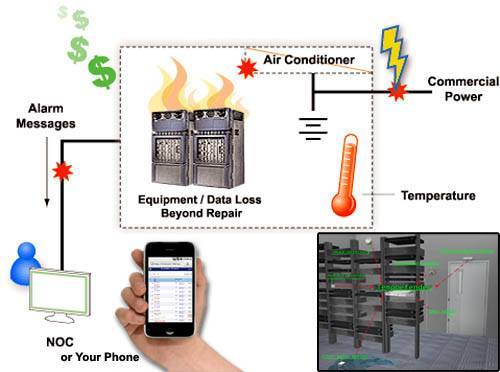 The diagram above shows a TempDefender IT device that will monitor temperature server room, data center, or remote network site.
A quality alert monitor will measure all of these critical conditions and report this information back to you or your NOC. The key to preventing these threats is having the right monitoring system in place - so you know the instant there's a problem.
What does it take to monitor these critical conditions?
The good news is choosing the right system doesn't have to be expensive, and it won't cost a fortune. However, there are some key features you need if you want to be fully protected. Too many alert monitors lack the critical features you need for optimum protection.
First, you need to make sure your alert monitor has support for analog sensors. Basic discrete sensors can only tell you when a variable has crossed a threshold you specify, for example if the temperature has risen above 82 degrees. Discrete sensors are great for monitoring things that are either "on" or "off" - like measuring power or detecting motion. When it comes to conditions like temperature, humidity, etc, it's essential for you to receive more information.
An analog sensor outputs at a continuous rate (4-20mA), which means you can receive precise details about these conditions. These more advanced sensors provide you with more meaningful alerts, which help you better assess situations and prioritize response to emergencies. Imagine the kind of network emergencies you could prevent by receiving alerts with meaningful information.
It's also critical that you use an alert monitor that can report to you 24 hours a day, 7 days a week. Network emergencies don't keep standard business hours, and neither should your monitoring system. Look for a system that can provide multiple methods of alerting you (for example by email, pager, voice alerts to your phone, SMS text messages, etc). Picture the peace of mind knowing that no matter where you are, or the time of day, you'll always be the first to know about a threat to your network.
Also look for products that are built to last. The last piece of equipment to fail should be your monitoring system. Too many alert monitors are poorly built and unable to withstand the test of time. Look for a good monitoring solution that's built on rugged, industrial-grade hardware.
How to choose the right monitoring solution
Can you picture how much easier your job would be if you had the power to avoid preventable network downtime? This level of control doesn't have to be a dream - you can make it a reality.
This information is just the tip of the iceberg. In order to make sure you're choosing the right system, I recommend taking a few minutes to read the free Network Alarm Monitoring Fundamentals White Paper.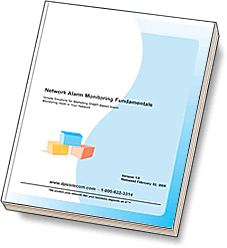 Download the free Network Alarm Monitoring Fundamentals White Paper here!
Choosing the wrong monitoring solution will only give you a false sense of security. You'll think you're protected, but in reality, you're just as vulnerable. Using this free guide, you'll learn about...
Which equipment you must monitor
How to design an alarm system to meet your current and future needs
How to minimize transition costs
Don't stop at just reading this White Paper. The DPS Telecom monitoring specialists and engineers are standing by to provide consultation on choosing the right monitoring system.
To get in touch with the DPS experts, call (1-800-693-0351) or email (sales@dpstele.com). They can answer your questions, address your concerns, and even provide a free Return-on-Investment (ROI) analysis - so you can see exactly how much you can save. You may also use the box below to get in touch with Mac Smith, who can help you get started making the right choice today.