Download the SCADA White Paper.
DNP3 Provides Multiplexing, Data Fragmentation, and More.
DNP3 is a layer 2 protocol. This means that it provides for:
Multiplexing.
Data fragmentation.
Error checking.
link control.
Priority sorting.
It also provides layer 2 addressing services for user data.
DNP3 allows the various devices in process automation systems to talk. The DNP3 protocol is widely used for electrical, gas and water telemetry by utility companies. It is also possible for DNP3 to be utilized in other areas, though it is not as common.
SCADA Communications Uses DNP3 Protocol.
SCADA systems use the DNP3 protocol for use between system components. The DNP3 protocol provides for communication between the SCADA system master, RTUs, and Intelligent Electronic Devices (IEDs).
DNP3 was developed to meet the need for a standard protocol that would allow SCADA system components developed by differing vendors to talk. Using IEC 60870-5 as a base, DNP3 was created as an open protocol for use in these cases. This protocol was available for prompt use within SCADA networks, and catered to the specs laid out by North American organizations.
DNP3 Provides Communications Reliability for Utilities.
DNP3 ensures the reliability of communications within the harsh environments of utilities. The protocol is able to avoid being distorted by EMI, legacy system components, and poor transmission due to DNP3's communications format. Although the protocol has error checking, DNP3 is not secured. This is an important consideration during SCADA planning.
You can protect your important DNP3 communications and your SCADA system with a network alarm monitoring system. The most advanced alarm masters can monitor in the DNP3 protocol, enabling you to receive your critical DNP3 and other protocol alarms in a single browser window. Your alarm master will inform you if there is a problem by sending you alarm alerts via email or page.
Make T/Mon NOC Your DNP3 SCADA Master.
T/Mon can serve as your DNP3 SCADA master using the T/Mon DNP3 software module. With this module to monitor your DNP3 communications, you will be able to enjoy all the benefits of the advanced T/Mon alarm master. You will gain peace of mind knowing that your operations are being monitored on an ultra-reliable platform.
T/Mon will provide you with DNP3 alarm notifications via pager, email, or cell phone, instantly informing you when you encounter a problem with your DNP3 communications. These alarm alerts will provide you with important alarm details. This will enable you to get your network back online as quickly as possible, minimizing your lost revenues due to network downtime.
T/Mon Provides for Scheduling of DNP3 Alarm Notifications.
With T/Mon, you can direct your DNP3 alarm alerts according to the appropriate technicians using alarm scheduling. This will provide the relevant alarm information to scheduled technicians, enabling them to quickly get to work on bringing your network back online. T/Mon will also group these DNP3 alarms in it's single, convenient browser window. This allows your network staff to view standing alarms grouped by user-specified criteria such as severity, geographic location, and more.
Don't leave your vital DNP3 communications unmonitored. Deploy a T/Mon NOC with the DNP3 software module, and maximize your revenues by providing your customers the reliable service they demand, reducing your customer churn.
Download the SCADA White Paper.
Related Products:
T/Mon NOC.
Related Topics:
DNP3 Protocol.
DNP3 Communications.
DNP3 SCADA.
---
Get a Custom Application Diagram of Your Perfect-Fit Monitoring System
There is no other network on the planet that is exactly like yours. For that reason, you need to build a monitoring system that's the right fit for you.
"Buying more than you need" and "buying less than you need" are real risks. You also have to think about training, tech support, and upgrade availability.
Send me a quick online message about what you're trying to accomplish. I'll work with you to build a custom PDF application diagram that's a perfect fit for your network.
---
Make an Informed Decision
Your network isn't off-the-shelf.
Your monitoring system shouldn't be, either.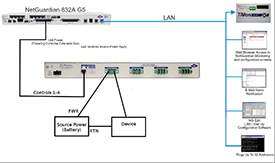 We'll walk you through this with a customized monitoring diagram.
Just tell us what you're trying to accomplish with remote monitoring.
Get a Custom Diagram