What's New in T/Mon 6.7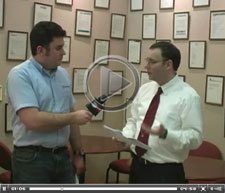 T/Mon Mobile Web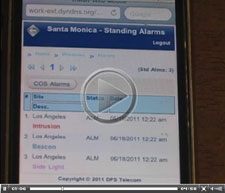 In this video review, Andrew shows you the new and improved T/Mon web interface. He will walk you through the newest features, and give you a sneak peek at the special enhancements made to the 2.0 web interface.
DPS President Eric Storm details some of the new features included in T/Mon's 6.7 software release, including the root alarm and mobile web features.
A demonstration of the new T/Mon mobile web application shown on an iPhone(R) at a factory training event. The Mobile Web interface for T/Mon provides mobile access to the NOC, allowing users to view and acknowledge alarms right from their smartphones.
SNMP Trap Processor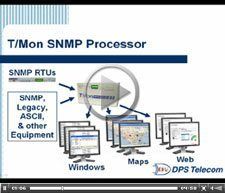 T/Mon on SmartPhones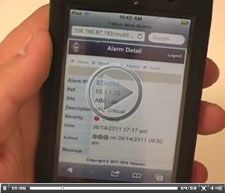 How to Poll NetGuardians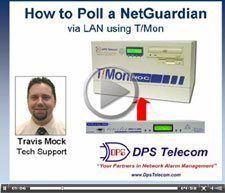 With the SNMP Trap Processor module, T/Mon can convert incoming SNMP traps into on-screen alerts, pages, emails, and voice dial-outs. Plus, you can also bring in alarms from ASCII text sources (like telecom switches) and non-SNMP remotes.
The new T/Mon Mobile Web interface displays standing/COS alarms across your network and allows you to acknowledge alarms or view alarm details while you're on the go, without booting up your laptop.
DPS Telecom NetGuardians are even more effective when paired with a T/Mon master station. Connecting one to the other is a quick process. In this video, Tech Support Engineer Travis Mock shows you how...
Call and order your T/Mon Master Station Today!
If you have more than a handful of remote sites, you can't afford to not have a master station. It allows you to have complete visibility of every site in your network, all from one screen in your central or home office. Don't let another critical alarm go unnoticed! Call DPS Telecom today to find out more about the T/Mon Master Station and the different options that you can choose from to find the perfect-fit master station for your network.
Request More Information
To learn more about this and other unique DPS product applications, navigate to our Request Info page.
Request More Info!
Need a Quote?
Get it by: 4:15 PM Monday (tomorrow)
8:00 AM Monday
We'll Start Work on Your Detailed Quote
4:15 PM Monday
Get Your Quote (Email PDF)
It's 11:28 PM on Saturday at our Fresno, CA, USA headquarters. We'll start work on your quote first thing on Monday.
Get a Quote