Our Comprehensive GUI allows effortless management and visibility for your remote monitoring system.
Key Benefits include:
The TMon is a multiprotocol, multifunction single-platform solution for all remote alarm monitoring uses.
Alarm monitoring data collection from a myriad of devices, manufacturers.
Supports over 25 protocols including ASCII, DCP, DCPF, DCPX, DNP3, E2A, SNMP, TABS, TBOS, and TL1.
To continue using functioning legacy gear in the era of modern protocols, you need a modern master that remains compatible with older protocols as well. T/Mon supports legacy devices and protocols from Badger, Cordell, Granger, Larse, NEC, Pulsecom, and Teltrac.
T/Mon GFX graphical user interface shows all alarms on layered geographic maps in real-time..
Mobile Web Interface allows viewing, administration and acknowledging alarms from desktop and cellular devices.
Mediation and forwarding remote alarm monitoring data to different protocols and master of masters.
Plain English alarm descriptions and specific instructions for correcting alarm conditions ensure prompt, effective response to active alarms.
Displays network status and alarm information to multiple users connected via LAN, dial-up, or serial connection.
Automatically sends detailed notifications and instructions to repair technicians by alphanumeric pager, cell phone, and e-mail.
Every network has different needs. You might have a 24/7 NOC center, but you might also be a smaller company with just a few technicians. T/Mon allows you to choose on-screen display, email alerts, and/or phone alerts when new alarms come in. You can also allow alarm type and severity to determine the notification type (more important alarms demand a more disruptive alert).
Manage your monitoring with detailed history, trending, and root cause analysis.
T/Mon offers you flexible capacity. You shouldn't pay for what you won't use. Whether you're a small rural telco or a massive multi-national corporation, you can choose a T/Mon platform that's scaled for your needs. You can also choose software modules based on the protocols you use in your network.
Request Information & Pricing
*Please expect a response within 1-2 business days. Call
1-800-693-0351
for immediate assistance.
---
Key Features
Full-Capacity Monitoring
Up to 1,000 TCP/UDP Sockets
32 Simultaneous Web Users, 64 Simultaneous TGrafx Users
9,999 devices/RTUs supported
999,999 alarm points supported
Download Brochure
The Secret to Monitoring Success: T/MON

Specifications
Target Solution
Devices / Points Supported
Devices/RTUs: 9,999
Alarm Points: 999,999
Data Ports: 16
Ports
NIC: Six 10/100/1000Base T
Simultaneous Users
TCP/UDP Sockets
Protocols
Inbound: ASCII, Badger, Cordell, DCM, DCP, DCPf, DCPx, E2A, Felix, FX8800, Granger, Larse, Modbus, NEC, NTP, Ping, POP3, Pulsecom, SNMP, TABS, TBOS, Teltrac, TMonNRI, TL1, TRIP
Outbound: ASCII, DCP, DCPf, DCPx, DCM, E2A, Email, NEC, Pager, Ping, SMTP, SMNP, TABS, TBOS, Teltrac, TMonNRI, TL1, TRIP
Remote Access: DTMF, Remote Access, TGrafx, WebBrowser (HTML/CSS/Javascript), HTTP/HTTPS
Physical Dimensions
8.75" H x 17" W x 14" D (6 RU)
Processor
Intel® i7-8700 6-Core 3.2 GHz (4.6 GHz Turbo)
RAM
Storage
Dual 1TB Enterprise Grade Hard Drives in RAID 1 configuration
Fans
SQL Data
Included (configuration and History)
Voice Generation
Local (Requires Optional Site Dialer)
Web Interface
WebMonitor 3.0, MobileWeb, WebEdit 1.0
---
How many different devices do you monitor?
Most network managers are responsible for a wide range of equipment: switches, routers, microwave radios, and a variety of remote telemetry units (RTUs). Some output contact closures, other ASCII text alarms. You might work with SNMP or a proprietary protocol supported by only one manufacturer.
How many different remote alarm monitoring systems are you running to track all your alarms? How many different screens do you have to watch? How many consoles are cluttering up your NOC? How many alarm databases do you have to maintain?
Wouldn't you like to have one remote alarm monitoring system to manage your entire network?
Then you need T/Mon LNX, the remote alarm monitoring system uniquely designed to monitor all your equipment - including proprietary legacy gear that no other system can support.
If you've got any network monitoring problem, DPS Telecom can help. We build customized network reliability solutions made to your specifications, backed by the best client support in the industry and a no-risk, money-back guarantee - "If you buy our equipment and are not satisfied for any reason during the first 30 days, simply return it for a full refund."
---
---
Get a Custom Application Diagram of Your Perfect-Fit Monitoring System
There is no other network on the planet that is exactly like yours. For that reason, you need to build a monitoring system that's the right fit for you.
"Buying more than you need" and "buying less than you need" are real risks. You also have to think about training, tech support, and upgrade availability.
Send me a quick online message about what you're trying to accomplish. I'll work with you to build a custom PDF application diagram that's a perfect fit for your network.
---
Make an Informed Decision
Your network isn't off-the-shelf.
Your monitoring system shouldn't be, either.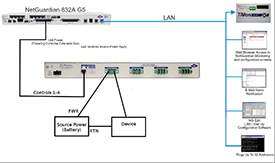 We'll walk you through this with a customized monitoring diagram.
Just tell us what you're trying to accomplish with remote monitoring.
Get a Custom Diagram