Index
Building Access Unit (BAU)
The Building Access Unit (BAU) is designed to mount inside the door of a remote building to validate a legal entry. The primary benefit of this unit is to reduce nuisance door alarms. It features a keypad, visual and audible indicators. The BAU has an opto-coupled input for door sensors, motion detectors and other alarm sources. The input is ground activated and can be configured to monitor multiple entry detection devices. The unit includes a sealed keypad, for dependable operation. An on-board audible alarm alerts site personnel of an illegal entry. The BAU will generate an alarm if the input line from the door sensor is cut.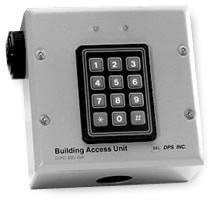 Monitor door activity and emergency alarms at remote sites
Sounds alarms and notifies master system when there is an illegal entry
Issue panic and duress alarms
Log personnel locations at T/Mon NOC alarm management system
Reduce nuisance door alarms
Alarms in case of power or communications loss
Three version of the BAU are available:
Network Version
Used in conjunction with a the T/Mon NOC alarm management system. Access codes for each BAU are stored centrally at the master so it isn't necessary to travel to a site to change user access codes. The T/Mon NOC keeps a record of all personnel logging in and out of a site. The BAU communicates with the element manager via TBOS protocol on an RS422 or RS485 facility.
Stand-Alone Version
Similar to the network version, except that it is designed to interface non-DPS alarm management systems that use the TBOS protocol. The Stand-Alone version is locally programmed with the keypad. It can I.D. up to 48 users.
Relay Version
Provides basic information, including occupied, duress and panic alarms and visual status indication. Relay contacts cause a discrete alarm point to be activated on a conventional alarm remote. The Relay version is also programmed locally with the keypad.
BAU Ordering Options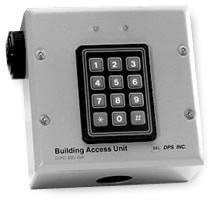 Monitor door activity and emergency alarms at remote sites
Ordering Options
BAU Network Version: Uses TBOS for transport, password administration takes place at the T/Mon/XM Workstation.
Options: 02=-24VDC; 04=-48VDC; 20=-48VDC / 80DB audible
BAU Stand-Alone Version: Uses TBOS for transport. Password administration is locally programmed at the unit. Limited to 48 valid user/codes.
Options: 12=-24VDC, 14=-48VDC
BAU Relay Version: Uses two relays to indicate unit status. Unit can not track individuals, but does give a thumbs up or down report. Locally programmed passwords. Ideal for replacing door closure alarm inputs with "smart" inputs. Unit will alarm if either inputs, outputs, or power is cut.
Options: 21=12VDC, 22=-24VDC, 24=48VDC
Need a Quote?
Get it by: 4:15 PM Monday (tomorrow)
8:00 AM Monday
We'll Start Work on Your Detailed Quote
4:15 PM Monday
Get Your Quote (Email PDF)
It's 4:33 PM on Sunday at our Fresno, CA, USA headquarters. It's late in the day, but we promise to start on your quote first thing in the morning.
Get a Quote