Other Topics Related to WAN SCADA:
Wide Area Network Supervisory Control and Data Acquisition (SCADA) is a new development in remote monitoring. Traditionally, protection of remote sites involves either a LAN /dial-up setup or increasingly costly serial transport methods. With specialized WAN SCADA Remote Telemetry Units (RTUs), you can now keep an eye on sites that were practically invisible before. What's more, you can do it for relatively low cost. A SCADA RTU equipped with T1 support is a perfect WAN solution to cover otherwise blind spots in a Remote Alarm Monitoring and Control Network. With the right equipment, such as the Netguardian 216T, you will accomplish all of your network monitoring goals in a single rack space. This minimizes rack space requirements and even more importantly maintains an affordable budget profile.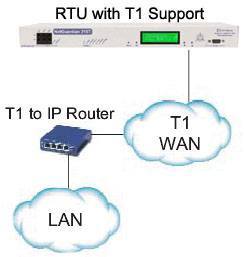 Here, a WAN SCADA device has been deployed to monitor a T1 network segment.