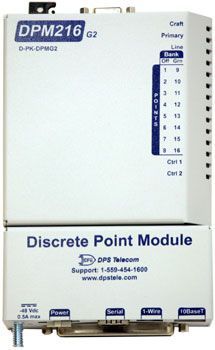 The DPM provides 2 control points and 16 discrete alarms.
Monitor and control your critical equipment 24/7 - no matter how distant, isolated, or hard to reach your equipment might be. The Discrete Point Module (DPM) is a compact, self-contained alarm system for reliable monitoring anywhere - cell towers, refrigeration units, or anywhere else. The DPM reports alarms directly to your alpha pager, or multiple DPMs report to T/Mon NOC for centralized alarm monitoring.
Telecommunications: All contact closure devices such as equipment with Mj/Mn alarms, tower lights, back-up power systems, doors, fire and flood detection.
Agriculture: DPMs in barns or outbuildings will notify you of unauthorized entry, extreme temperature, fire, low water pressure and pump operation. With the built-in web interface, you can simply browse to the unit's IP address and login to operate door locks, security lights and more.
Refrigeration: Monitor freezer doors, temperature sensors, and power lines to warn you of problems before they cause significant losses.
Fire and Safety: The DPM can also be used to monitor smoke and sprinkler alarms, as well as door and window entries to protect your people and equipment.
Cost-effective alarm reporting from even your smallest remote sites
Receive alarm notifications via alpha pagers
Monitor up to 16 alarm inputs and 2 control outputs at remote sites

New!

Now featuring built-in web browser

New!

4 user-defined analogs

New!

New 202 modem build option

New!

Supports internal & external temp sensors
Supports SNMPv1 and

(New!)

SNMPv2c for robust message delivery
Connect to T/Mon NOC over LAN (New!), dialup, or dedicated line
Available in AC or DC power
Easy Unit Configuration
Configuring the DPM for features like email notifications and custom alarm point descriptions is easy with the fast, new web browser. Plus, you'll monitor the alarm status and operate control relays right from the web.
To receive a price quote or ROI analysis...
Call 1-800-693-0351