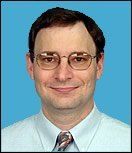 "I provide the bridge between what the client needs to get accomplished and it's physical implementation. In most cases, its putting together the right combinations of DPS products."



Eric Storm


When it comes to
planning your network
- from monitoring a new site to
mediating legacy gear
- Eric Storm is definitely the person you want on your
contact list
. As one of the founders of DPS, Eric has 25 years of experience in client service providing
alarm monitoring solutions
.
"I provide the bridge between what the client needs to get accomplished and it's physical implementation. In most cases, its putting together the right combinations of DPS products." Eric further explains, "Sometimes it requires knowing where the one or two key locations are to enhance an existing product to meet client's needs. Occasionally its creating the preliminary specs for unique solutions for clients with medium to large deployments."
Eric's favorite aspect of DPS is the way in which Sales, Engineering, Production, and Technical Support work together to provide our clients with perfect fit solutions. Part of that solution often includes a personal visit from Eric. He does a lot of traveling and enjoys face to face meetings with current and future clients.
Eric is detail oriented and likes to finish things. Combine that with a strong engineering/design background, and you will rest easy knowing Eric has a hand in your network layout. If you have any questions or concerns, Eric is always eager to hear them. "I would be a good person to call or e-mail to let DPS know how well we are doing our job."
So call or e-mail Eric today and let him know how we're doing!