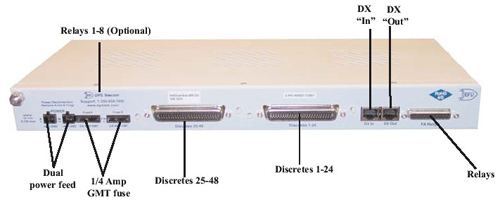 Up to three NetGuardian DX Expansion Units can be added to a compatible NetGuardian RTU, providing 144 additional alarm points.
Find temperature, humidity, and many other
discrete and analog sensors for your DPS RTUs.
Full Specifications
Discrete Inputs:
48
Control Outputs:
8 Relay contacts, Form A(N/O, N/C selectable)
Maximum Voltage:
60 VDC/120 VAC
Maximum Current:
1 Amp, AC/DC
Expandability:
DX 48
Protocol:
DCPX
Interfaces:

2 DB9 DCE RS232 ports
1 DB25 port

Power Input:
-48VDC (-40 to -70VDC), -24VDC, or Wide range (-18 to -70VDC)
Current Draw:
140mA (dual power feeds standard)
Fuse:
0.75 Amp GMT
Mounting:
19" or 23" rack
Dimensions:
1.75" H x 17" W x 8.625" D
Weight:
3 lbs. 15 oz. (1.8 kg)
Operating Temperature:
32 -140 degrees F (0 -60 degrees C)
Operating Humidity:
0%-95% non-condensing
"Ask us anything"
(we're experts)
-Ron, Mark, & Marshall
DPS Engineers
Get a Fast Answer
---
Mac Smith
I can help you with the information above.
Ask me anything:
---
Give Us a Call!
To find out more about this and other DPS applications, give us a call at our toll-free number and talk to one of our network specialists. They'll help you put together a perfect fit solution for your network!
Sales: 1-800-693-0351 · Fax: 559-454-1688