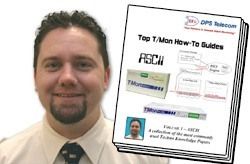 New TKP collection for all you ASCII users...
The ASCII Processor in T/Mon is a flexible tool for converting almost any human-readable text stream (including TL1) into standard alarm points. This flexibility does require a certain amount of complexity, however, and that's why I've written this PDF guide. It's built on my experience in Tech Support, and it will teach you how to setup and test the ASCII Processor on your T/Mon...
Click here to download the ASCII collection of Techno Knowledge Papers.