Can improving your network monitoring actually increase your revenue? Telikom PNG thinks it can, and they're about to prove it.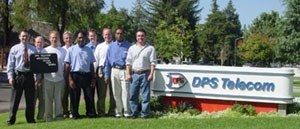 Pius Ante & Maisen Windu of Telikom PNG
with the DPS Telecom Team
Telikom PNG, the national telecom company of Papua New Guinea, is building a new nationwide monitoring network that will join its existing legacy systems under the T/Mon. According to Telikom PNG executives, the real-time monitoring capability of the T/Mon will dramatically increase network uptime and create a healthy rise in company revenues.
The new T/Mon system will result in "a direct increase in our revenue," said Maisen Windu, Telikom PNG's executive manager of network management and standards.
"The biggest impact will be our maintenance costs. I estimate a savings of 30-40%," said Windu. "And also it will directly increase our revenue. As long as the network is down, we're losing revenue. The net impact will be that maintenance costs will go down and revenue will increase. I estimate that the gear will pay for itself within two years."
Downtime Costs Revenue - Uptime Increases Revenue.
Telikom PNG understands that downtime costs. Every minute that your network is down, you're missing an opportunity to sell network services to your customers. Network monitoring, which keeps the network up and generating revenue, isn't a cost center, it's a profit center.
Windu illustrated this point with a story about a costly service outage. "One time there was a big problem with the main switching network, and we couldn't tell what was wrong. The rectifier powering the switch had failed in the early morning. If we'd known about it, we could have fixed it, no problem."
"But we don't have any way of monitoring in the evening after office hours," continued Windu. "We didn't know about the problem until the office opened that day. Tracking the problem took three hours. Our network was down for about 12 hours by the time it was fixed."
That downtime has an immediate impact on revenue. "From that site, we're talking about an average revenue of 2 million U.S. dollars a month," said Windu. Twelve hours of downtime for that site equals $33,000 to $35,000 of lost revenue. A monitoring system that can prevent outages like that will quickly pay for itself.
A Challenging Place for Network Reliability.
Understanding the direct connection between network uptime and revenue, Telikom PNG has made network reliability its top priority. But achieving service level targets in Papua New Guinea isn't easy. Telikom PNG faces the same kinds of challenges that North American telecoms do, but it faces more of them and the challenges are more intense.
To begin with, there's geography. Papua New Guinea, located east of Indonesia and north of Australia, is mostly mountains, and most of Telikom PNG's vital microwave repeater sites are on isolated mountaintops.
"These are major sites, connecting major cities," said Pius Ante, Telikom PNG's manager of transmission systems. "But there are no human beings anywhere around these places. The only way you can get there is by helicopter."
It's impractical for Telikom PNG to maintain its own helicopter fleet, so a helicopter must be rented for every site visit, added Ante. Because just getting to the sites is difficult and expensive, regular maintenance is scheduled only once a quarter.
The mountain sites have to be energy self-sufficient, since they are far away from any source of commercial power. "Most of our mountaintop sites are run by solar power," said Windu. "If solar power isn't available, they run off battery power. The batteries are charged by the solar panels and a backup diesel generator."
These sites operate effectively most of the time, but if there's a power failure it can result in severe service outages. "Power failures are a leading cause of failure," said Ante. "When the charging system works, the system just runs. But if the charger fails, then the site will eventually go down."
Real-Time Network Monitoring Is Essential To Maintain Uptime.
Managing these isolated mountaintop sites effectively clearly requires real-time network monitoring. Remote telemetry is the only way to know the actual present status of the site. It's the only way to anticipate problems before a vital failure. It's the only way to determine if repairs should be postponed until a regularly scheduled maintenance run or whether repairs are so urgently needed it justifies the expense of a special trip.
But until the T/Mon system is deployed, Telikom PNG doesn't have real-time monitoring capability. Currently, the company runs two separate network monitoring systems. Discrete alarms are monitored by a network of unsupported legacy NEC 21SV remotes, and ASCII alarms are sent to a console at Telikom PNG headquarters in Port Moresby.
The NEC master is nonfunctional, so there is no visibility of discrete alarms, and ASCII alarms have to be monitored and forwarded by human beings. There aren't personnel available to monitor the ASCII console at all times, so a worker has to periodically check for alarms and forward them by e-mail to maintenance supervisors.
"The problem with the current system is that there's no way to send alarms to the responsible people," said Ante.
"It's laborious and it's limited," said Windu. "We don't have any way of monitoring after hours." In many cases, Windu said, "The customer is the alarm system. When they have a problem, they call us and complain. They ask us "What's the problem?" and we have to say "We don't know what the problem is."
Improving Network Uptime Is Crucial For Long-Term Success.
Increasing customer satisfaction is crucial to the present and future success of Telikom PNG. The company is currently a government-owned monopoly, but soon the company will be privatized and the telecom market of Papua New Guinea will be opened to free competition. In the short term, Telikom PNG has an obligation to serve the public; in the long term, the company needs to be competitive in the free market.
A successful business strategy for Telikom PNG required improved uptime and increased customer satisfaction, and that required real-time network monitoring.
"We want to monitor our alarms on a real-time basis, whether it's discretes or ASCII. That's main. The format of the reports is secondary. The primary thing is real-time monitoring, being able to look at it from bird's eye and seeing the entire network," said Windu.
"The T/Mon Exceeded Our Expectations."
Telikom PNG evaluated several vendors to supply a new monitoring system. The company chose DPS Telecom and the T/Mon because the system not only met their objectives, it surpassed them.
"The T/Mon actually exceeded our expectations. What we were expecting and planning for was much less," said Windu.
Ante said that two features of the T/Mon set it apart from the competition. "First, automatic alert of responsible personnel. Then, the T/Mon integrates our existing systems. Other vendors didn't have a solution for the NEC remotes. They wanted us to swap it all out. Replacing both the master and the remotes would mean the cost would double. The T/Mon works with our existing gear," said Ante.
Telikom PNG was also looking for a stable vendor that it could form a long-term partnership with. "My CEO told me to be sure to pick a company that wouldn't be gone tomorrow," said Windu. DPS Telecom's 17 years in business, plus its long client list, made the company a credible choice to Telikom PNG management.
Building A Successful Long-Term Monitoring Strategy.
Telikom PNG's new network monitoring solution was developed after a careful consideration of the company's needs and close consultation between Telikom PNG personnel and DPS Telecom Applications Engineer Rick Dodd.
The heart of the new system is an T/Mon network alarm management system that will poll discrete alarms from the NEC 21SV remotes and ASCII alarms from telecommunications gear. The two separate monitoring systems will be integrated on a single platform that presents and integrated display of the entire network plus automatic alerts by pager and e-mail.
The new monitoring system can also grow to accommodate future developments in Telikom PNG's network. The NEC 21SV remotes can be gradually replaced by DPS Telecom NetGuardian units. The changeover can be spread over several budget cycles to minimize its impact on capital expenditures, operational expenditures, and manpower costs. Remember, installing a new RTU at Telikom PNG's sites requires a helicopter trip.
Telikom PNG is also considering using T/GrafX, for an integrated war-room display of the network, and a second T/Mon located at a backup NOC to serve as a geodiverse standby backup.
Ante and Windu traveled to DPS Telecom headquarters in September to supervise factory acceptance tests of the new system. Ante said that the tests clarified the goals of the project and solidified his opinion of the T/Mon's capabilities.
"Being here at DPS enhanced our knowledge of what we want to achieve, and it helped us know more about the capabilities of the product. The factory trials gave us the confidence to say this is the product we recommend to our company," said Ante.
Best of all, Ante and Windu will return to Papua New Guinea with a monitoring system that will win the confidence of their whole company and their whole country. "Everybody will be smiling when we put it up," said Ante.
---
Learn How a High-quality Monitoring Solution can Lower Your Costs and Raise Your Revenue
Contact DPS Telecom at 1-800-693-0351
To receive a price quote or ROI analysis...
Call 1-800-693-0351