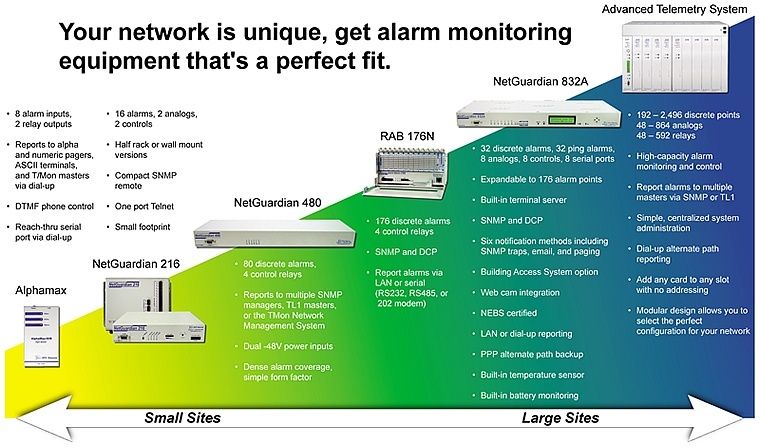 Click on a product image to see product details and specifications.
Other Helpful Links
This NetGuardian Monitoring Application solves 2 visibility problems.
Remote Telemetry Units (RTU) for Medium Sites.
RTU vs Equipment With Embedded Monitoring - 8 Critical Considerations Affecting Time, Money and Your Future.
Specialized Technologies from DPS.
23 burning questions you must ask of your Remote telemetry unit vendors.
Replace Your Badger Remote Units Without a Forklift Swapout.
The Top 3 Client-Favorite New DPS Technologies of 2013.
Enhance Network Reliability and Create a Competitive Edge with Remote Alarm Monitoring and Control.
Peripherals (Accessories).
Strategic Products are MFD.
Your IPswitch Master Station can Monitor NetDog remotes.
How To Monitor a NetGuardian From Any Telnet Terminal.
DPS has RoHS solutions - You need to have monitoring devices that are ROHS compliant.
Voice Alarm Dialer.
General LCD Display (GLD).
Does your Remote Access Device Have These 4 Features?
Top 5 Technologies from the DPS Overview Slideshow.
Product Showcase--Index.
DVF-64 Card Opens Door to Digital Supervisory Applications.
Working With E2A.