Without alarm monitoring, you may not know for days if your GTD-5 were to fail. However, by deploying an advanced alarm monitoring system, you will receive instant email or pager updates anytime your GTD-5 and other mission-critical equipment loses connectivity. These alerts will not only help you to locate problems, but will also help you quickly resolve them with the repair instructions included with every alert.
The T/Mon NOC is an advanced alarm master that provides you with these important alerts. Not only will T/Mon instantly page or email you and your technicians to inform you of problems, but it will also group all of your alarms from the entire network into one convenient browser window. T/Mon will also group alarms by severity, location, or any other user-defined term to provide you simple control of your network.
Protect Your Revenues by Deploying a T/Mon NOC
Every network needs to know when they have encountered downtime due to s DMS-GSP or other equipment failure. By minimizing your network downtime, you can maximize your company's revenues using network alarm monitoring.
Modular Design Makes GTD-5 Customizable for Individual Businesses
Lucent Technologies provides a multitude of switching services with their GTD-5 EAX line of central office switching products. The GTD-5 Central Office Switch has a modular design, allowing users to customize their unit to fit into their own personal business strategies. The GTD-5 architecture makes adding customized features and services easy and intuitive for service providers who are looking to expand their service offerings to their clientele.
With a single GTD-5 switch, service providers can support local voice and data transmission, long-distance voice and data transmission, Internet access, and multimedia service. With this assortment of abilities, providers can increase their revenue generation by offering additional new services supported by the GTD-5.
GTD-5 Supports Smooth Transition from Circuit to Packet Switching
All GTD-5 switch architecture meets with the industry standard for switching equipment. With open interfaces, it is easy to update the switch to support new technology, as well as provide for a smooth transition from circuit to packet switching.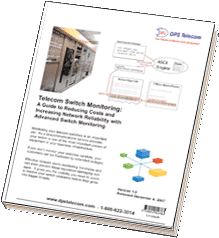 Download the "Telecom Switch Monitoring" White Paper
To see additional information related to a "Lucent GTD-5", please visit the
Switches
page.