One of the biggest hurdles in SNMP-based network management is figuring out how to monitor all the necessary equipment that doesn't support SNMP - legacy telephony gear, battery plants, generators, security locks, temperature sensors, etc.
Basic network equipment like this usually produces an old-fashioned, standard telemetry interface - either a contact closure or an analog voltage. It's essential to monitor these critical network elements - if any one of them fails, it can bring your whole network down - and that means you need to integrate these simple inputs into your SNMP network management system.

The NetGuardian 832A monitors 32 discrete alarms and 8 analog alarms, pings 32 network elements, controls 8 relays, provides LAN reach through access to 8 serial ports, and reports via SNMP or DCPx, e-mail, or pagers.
The right tool for the job is the NetGuardian 832A SNMP remote telemetry unit. The NetGuardian mediates standard contact closures and analog inputs to SNMP traps - and it also does a whole lot more.
Depending on how you want to use it, the NetGuardian is an SNMP proxy agent, an RTU, or an all-in-one alarm monitoring system - and that's just its most prominent functions.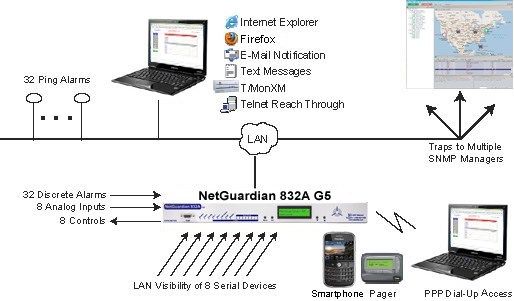 The NetGuardian 832A mediates 32 discrete alarms, 32 ping alarms, and 8 analog alarms to SNMP traps, and supports multiple SNMP managers at multiple IP addresses.
SNMP proxy agent
The NetGuardian's primary job is to mediate remote site alarms to SNMP traps and forward them to an SNMP manager. If you need to integrate telephone switchgear monitoring and remote site environmentals into your SNMP network management, installing NetGuardians at your remote site is a simple, cost-effective solution.
All NetGuardian inputs can be mediated to SNMP traps - but you can select to not send a trap for each individual alarm, so you can filter out any unimportant stuff.
The analog inputs send traps for four thresholds, plus the SNMP manager can retrieve live actual readings from analog inputs by issuing a GET command. SET commands issued to the NetGuardian will activate the control relays, for turning on-site equipment on and off, locking and unlocking doors, etc.
The NetGuardian can report to up to three SNMP managers at different IP addresses simultaneously, which makes it great for filtering alarms to different departments.
The NetGuardian can also report simultaneously to the T/Mon NOC Remote Alarm Monitoring System.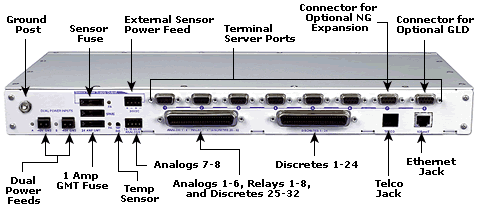 The NetGuardian supports contact closure and analog alarms, plus eight terminal server ports for accessing telephony equipment.
Physical unit
The NetGuardian is designed for standard telco operating environments. It's 1 RU in size, mountable in 19" or 23" racks, with dual -48 volt power inputs. NEBS Level 3 certification is available.
Capacity
The NetGuardian offers 32 contact closure alarms, eight analog inputs, and eight control relays - enough to provide solid alarm coverage for telecom equipment, power supplies, environmental factors, door alarms, etc., at a medium-sized site.
If you need to monitor more than that, you should check out the NetGuardian Expansion Unit, which adds an additional 48 contact closures to the NetGuardian's base capacity. Up to three Expansion Units can be daisy-chained off a base NetGuardian, for a total potential capacity of 176 contact closures.
Cool feature: 32 ping alarms, providing a convenient way to check on IP equipment at your remote sites.
Even cooler feature: The NetGuardian's built-in terminal server, which gives LAN access to remote site routers, PBXs and other telephone switchgear. You can telnet into these devices right from your desktop PC and access their configuration and control interfaces.
Stand-alone remote alarm monitoring solution
Alongside its SNMP proxy functions, the NetGuardian supports direct access through a Web browser interface.
You can monitor and acknowledge alarms without an SNMP manager or any other equipment. This makes the NetGuardian a very compelling choice for remote site maintenance departments who are required to send all alarms to a central operations center. The NetGuardian will forward alarms to the SNMP manager at the NOC while you still have local alarm visibility of your sites.
Rounding out the NetGuardian's local remote alarm monitoring capabilities is built-in support for pager and email notifications. Field techs in particular will like getting pager alerts directly from their remote sites.
Extra features
The NetGuardian supports a variety of accessories to add more functionality, including a visual surveillance camera, a wall-mount alarm notification panel, and a keypad facility entry system.
---
Mediating contact closures to SNMP traps is just the start of the NEBS-certified NetGuardian 832A's capabilities. Monitor alarms directly from the Web without a master … access remote site equipment through terminal server ports … get email notifications of every alarm ...learn everything the NetGuardian 832A can do for you.