Why You Need to Monitor the Whole Facility - Not Just Your Equipment
Knowing what's really going on at collocation facilities can be difficult to the point of impossibility. Whether you're a tenant at the facility, or even if you own the building, most of the site is outside your control.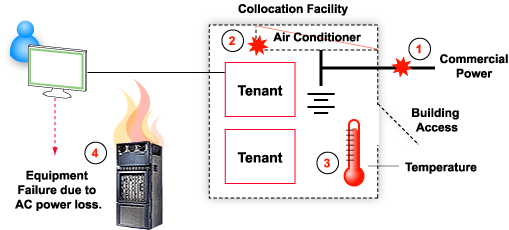 Make sure backup power is supplied to both your DC power plant AND your A/C powered devices, such as air conditioners.
But that's exactly why you need to monitor collocation facilities closely. If you're a collocation tenant, the factors you can't control - the general conditions of the facility and the actions of other tenants - can severely affect the revenue-generating equipment you've installed at the collocation site. Monitoring these factors will keep you a step ahead of potential threats to your network.
And if you're a collocation host, you have an even greater need to keep close tabs on your collocation facilities. Not only will conditions at the site affect your own equipment, you have a contractual obligation to provide your tenants with a specified standard of environmental conditions and site security.
Best Practices for Monitoring Collocation Facilities
Industry experts advise that both collocation tenants and hosts should monitor the following factors:
Power
Collocation facilities are not always able to provide a constant supply of power to their tenants. The collocation agreement usually specifies that the collocation host will provide AC and DC power, and a backup power supply in case of commercial power failure. However, large-scale or long-term power outages can strain even the best-prepared backup power plans.
So collocation tenants shouldn't blindly trust that maintaining power supplies is the collocation host's job. Tenants should monitor the power supply to their portions of the facility and be prepared for power failures.
Collocation hosts usually fully monitor facility power, including the commercial power supply, battery levels, and generator activity. It's beneficial for all parties for hosts to share this information with all the occupants of the collocation facility.
Alarm sharing can be performed automatically with the DPS Telecom Alarm Distribution Shelf (ADS). Specifically designed for collocation facilities, the ADS can monitor up to 256 alarm inputs and distribute them to up to 20 users. A DPS client who manages collocation facilities routinely uses the ADS to share power alarms with tenants.
Collocation hosts should also regularly test backup generators to ensure they are working properly. This task can be conveniently automated with the T/MonXM Network Alarm Management System. Let's say the generator at your collocation site performs a self-start test every Thursday at 3 a.m. Using T/MonXM's derived alarms feature, you can create a custom alarm that will notify you only if the generator fails to perform the test.
(Incidentally, this is far more useful than a status alarm notifying you of a successful test. A weekly alarm announcing that all is well is a nuisance alarm that will be ignored, and no one will notice if the alarm doesn't happen on schedule. But a "generator test fail" alarm will be recognized and acted upon.)
Temperature
Collocation tenants should be aware that power failure also creates a potential for dangerously high temperatures at the facility. Even if the collocation facility provides plenty of backup power for your telecom equipment, there is often no backup power for running the air conditioning. Your revenue-generating equipment will run, but as it runs it will get steadily hotter until it's damaged or fails, shutting off network services to your customers.
It's therefore vitally important to monitor the temperature level at your collocation site. To get the most detailed visibility of site temperature, you need a remote that monitors four separate analog thresholds, like the NetGuardian 832A.
With four thresholds you can set separate major and minor alarms for both high and low temperatures. This gives you both an advanced warning if temperatures are starting to leave the optimum range (e.g., the air conditioner is not working right and the temperature has risen to 80°F) and a final notification when temperatures have reached the danger point (e.g., the air conditioner is not working at all, and the temperature is 100°F).
Building Access
Site security is an especially important consideration for both collocation hosts and tenants. Personnel from each of the companies tenanted at the facility are coming and going at all times, so it makes excellent sense to monitor entry to your portion of the facility.
Most conventional means of securing an entryway don't provide effective security, especially if the entryway is at a remote collocation site far way from your NOC. Keys and even magnetic stripe cards can be stolen and duplicated, and there's no guarantee that former employees will return their keys when they leave your employment. A contact closure on a door strike will let you know if a door opens and closes, but it won't tell you who is entering your facility.
To get the best security of remote entries, you need a keyless access control like the Building Access System (BAS). Access is granted only to personnel who enter the correct code on the keypad. For people who need temporary access to the site, like outside repair staff, you can assign entry codes that expire after a certain time.
With the BAS, you can control who enters your facility, which parts of the facility they can access, the time they can enter, and how long they can stay. The BAS maintains complete logs of all entries.
Best of all, the BAS, which operates with the T/MonXM Network Alarm Management System, the NetGuardian, and the KDA, integrates into the rest of your remote site monitoring. If there is an intrusion at your collocation facility, or someone attempts entry with an invalid code, you will be immediately notified by your Network Alarm Management System.

To find out more about this and other DPS applications, give us a call at our toll-free number and talk to one of our network specialists. They'll help you put together a perfect fit solution for your network!