WAN SCADA is synonymous with the common phrase "WAN Alarm Monitoring".
Other Topics Related to WAN SCADA:
WAN SCADA is a new development in remote monitoring. Now, with specialized WAN SCADA equipment, you can keep an eye on sites that were practically invisible to you before. What's more, you can do it for relatively low cost. With the right equipment, you will accomplish all of your network reliability goals in just one rack unit of space, limiting physical space requirements and (even more importantly) limiting budget consumption.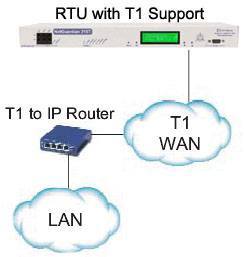 Here, a WAN SCADA device has been deployed to monitor a T1 network segment.
To see additional information related to WAN SCADA, please view the WAN Alarm Monitoring page.
"Ask us anything"
(we're experts)
-Ron, Mark, & Marshall
DPS Engineers
Get a Fast Answer
---
Mac Smith
I can help you with the information above.
Ask me anything:
---
Give Us a Call!
To find out more about this and other DPS applications, give us a call at our toll-free number and talk to one of our network specialists. They'll help you put together a perfect fit solution for your network!
Sales: 1-800-693-0351 · Fax: 559-454-1688