T1 Supervisory Control and Data Acquisition (SCADA) is another way of saying "T1 Alarm Monitoring".
Other Topics Related to T1 SCADA:
-T1 Event Monitoring
-T1 Site Monitoring
-T1 Contact Closure Monitoring
A T1 SCADA solution transports Supervisory Control and Data Acquisition taffic via a T1 WAN. A key advantage of a T1 SCADA solution is the ability to monitor sites that are outside of your existing LAN. Additionally, you can bring Ethernet to other devices on site. And with a SCADA device that only requires 1 rack unit of space, you get all of the functionality you need without eating precious space in your enclosures.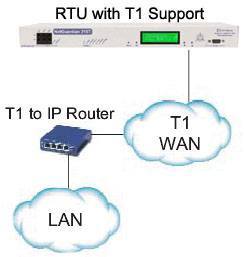 This diagram depicts the fundamental structure of a T1 WAN monitored with a T1 SCADA device.
"Ask us anything"
(we're experts)
-Ron, Mark, & Marshall
DPS Engineers
Get a Fast Answer
---
Mac Smith
I can help you with the information above.
Ask me anything:
---
Give Us a Call!
To find out more about this and other DPS applications, give us a call at our toll-free number and talk to one of our network specialists. They'll help you put together a perfect fit solution for your network!
Sales: 1-800-693-0351 · Fax: 559-454-1688